To live a rule of life is to choose God, and to place God at the center of your world, rather than focus on yourself. At the same time, the rule we establish helps us to seek God with every single part of our life, not just with prayer, but in all our relationships, in study, in play, in work, as well as in the care of ourselves and the world around us. There is no part of our life that is beyond God's reach. We choose to follow a rule because we have chosen God, and living a rule helps us to keep choosing God as the focus of every part of our life. 
~ Chapter Three – Choosing God, Living Faith Day By Day: Debra Farrington ~
Purchase by clicking the image
---
The Pharisee's seemed relentless in their pursuit to trap Jesus Christ. Colluding together, one man, a lawyer, ask's the Savior a salient question:
"Teacher, what is the great commandment in the Law?"
Christ responds – You shall love the Lord your God with all your heart and with all your soul and with all your mind. This is the first and great commandment. (See, Matthew 22:34-40, ESV).
The Gospel Message was never about doctrine. Never about a Church. The heart and message of the Gospel of Jesus Christ is God's love for man and man's love for God. And, as Debra Farrington points out:
…in seeking God, we often come to recognize one of the paradoxes of the spiritual life – that God was there all along.
She further points out that the absence of God was our own absence from the relationship, not God's.
When we come to realize that God has been there all along, we also discover that we are loved deeply and unconditionally. Otherwise, why would God stay with us, despite our obvious faults?
In the October 2007 General Conference, Joseph B. Wirthlin makes this remark:
The scriptures tell us that "if any man love God, the same is known of him."(cf, 1 Corinthians 8:3) What a wonderful promise—to be known of Him. It makes the spirit soar to think that the Creator of heaven and earth could know us and love us with a pure, eternal love.
We seek God because of our love for God and because of God's love for us. The entirety Gospel Message comes down to how we love God and how everything we do – relationships, work, entertainment, education, displays our love for God. No success, status, or possession will matter at the end of our days. How we loved God and loved others will be our victory. It is the very rule of life one is capable of establishing.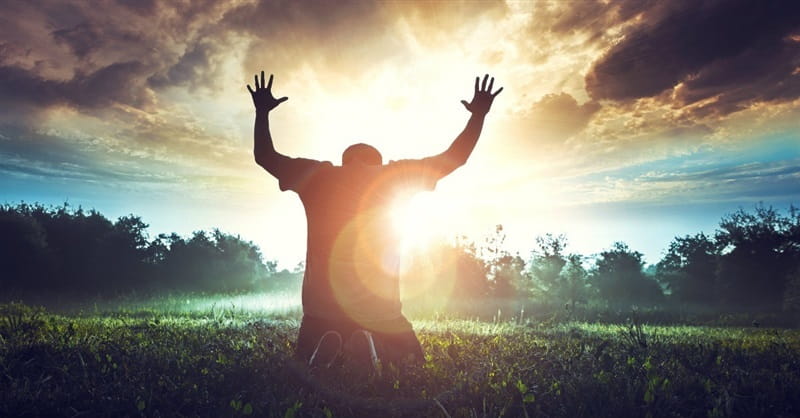 Yet, this simple message appears to be lost on many people today. Some of it may be lost due to the many doctrinal and theological contentions that exist in our Churches and conversations today. Many tend to believe that through contentious debating on religious doctrine, theological tenets, whether God exists or does not exist, one is capable of winning and influencing souls. Yet, we are called to a higher means of inspiring people – and that is through love, charity, compassion, and kindness.
This divine relationship takes work. It is not like falling head-over-heels in love with God. Instead, as Farrington shares, it starts with that glimmer of truth we are exposed to. We begin to slowly believe in God. A. W. Tozer writes this in his book The Pursuit of God:
…we Christians are in real danger of losing God amid the wonders of His Word. We have almost forgotten that God is a Person and, as such, can be cultivated as any person can.
Our love for God takes time. It is a process that we engage in every day. No matter what issue may arise, we seek God continually, communicate through prayer and meditation, read His words from those scriptures he has inspired men to write. Our love for God naturally develops and becomes all consuming in all of our affairs. Our seeking, according to Farrington, leads to us loving God with all our heart, mind, strength, and soul. And, the more we love God, the more we desire to seek after him. Tozer refers to this as a deep hunger and thirst.
---
Blessed are those who hunger and thirst for righteousness, for they shall be satisfied.
~ Matthew 5:6, ESV ~
---
This is the very heart and soul of our need to surrender to Him. Surrender our present attitudes, beliefs, worries, fears, and even our own very will. Because, through Him, we experience a new way of living life. And, the deeper we go with our love toward God, the more we come to realize and understand is how God loves everything and everyone. Otherwise, our spiritual life dwindles and we find ourselves in a wilderness of unbelief.
Once we center ourselves on the love of God, we become grounded and stable. Suddenly, things become clear, we begin to experience blessings in our lives – some right away, others as we grow and mature in Christ. I found this to be personally true when I felt called to abandon Apologetics. Instead, I felt called to come to know the one true God, and Jesus Christ who was sent (see John 17:3).
Since then, I've found there is a deeper, and much richer, experience to the Christian faith, and any one recovery program, where a person focuses on seeking, hungering, and thirsting after God. And, since then, when someone asks me how I know that there is a God, I simply answer, Because I know He loves me as much as I love Him and draw close to Him every day. For, it is not my job to prove whether or not God exists. It is my job and need to show God's love to everyone I interact with.
How are you struggling with making God the center of your life? What area are you attempting to hid from Him? What is preventing you from drawing closer to our Heavenly Father and develop a real genuine Love for Him? Share your thoughts in the comment section below.